Features
With the good cutting force of the grinding wheel, the workpiece is not easy to cause chipping.
This product has good self-sharpening and maintain long-term cutting force.
It is not necessary to dress the grinding wheel frequently, and the grinding wheel has a long tool life.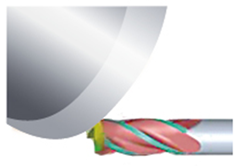 Case Study
Specification
SD1200 TY-L
Size
65D-3X-6U-8E-15T-20H-65V
Material
Tungsten Carbide
Equipment
HAWEMAT 3000CNC
•Other sizes available upon request.

More information: